OUR TEAM
We provide an individualized experience in a group fitness setting. We believe in equipping and sending leaders, never settling for industry standard. We only hire the best and continuously invest in the education and development of our staff. As constant learners, we strive for excellence in all things, and we believe our coaches are the most crucial means to having the best client experience possible. Our standard is excellence: professional, inclusive, and effective. These are the best coaches around. Come try us out and see for yourself!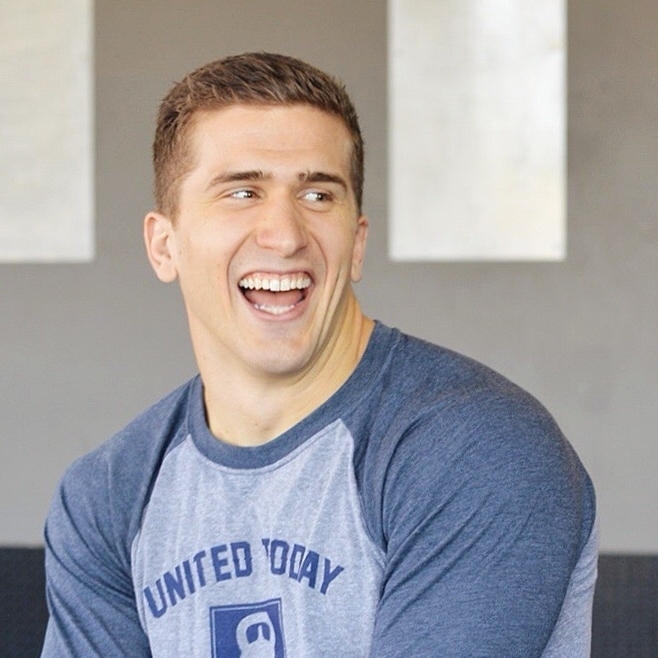 Bachelor of Interpersonal and Organizational Communication/Bachelor of Religious Studies, UNC; CrossFit Level 2; USAW-Sport Performance Coach Level 1
Dalton
dalton@UnitedFitnessCrossFit.com
While fitness and weight training were always part of Dalton's life, CrossFit has become his passion. Almost six years into his CrossFit training, he continues to love the intensity, opportunity, and the variance of skills athletes can work hard to master in each workout. With a focus on discipline and technique, he helps our athletes realize their potential by doing "the thing that may not even seem possible now." His motto: "Pay the man. Excuses are lies. Hard work pays off. Discipline equals freedom."
Formerly a cheerleader in college, Dalton maintains that he still holds onto a pretty mean toe-touch. He's happy to demonstrate anytime.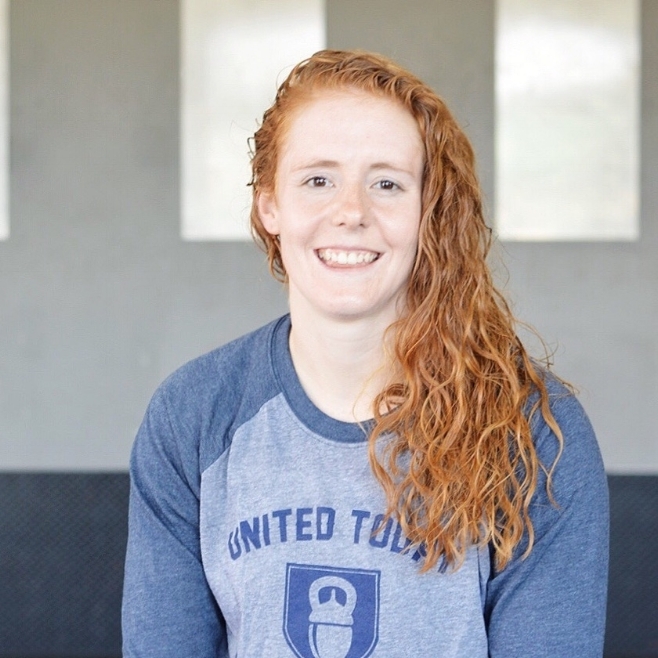 Assistant Head Coach: Facilities, Inventory, and Programming
BS - Exercise Science: Concentration in Business Administration, Campbell University, CrossFit Level 1
Casey
casey@UnitedFitnessCrossFit.com
Casey earned a BS in Exercise Science and coaches with the motto, "Stay in your lane!" With a heart to help athletes fight unhealthy comparison, but to spur one another on towards their fitness goals, Casey loves functional fitness and translating what she's learning and coaching in the gym into improving her everyday life and the lives of our athletes. She consistently helps athletes strive towards a healthier lifestyle with a positive attitude, a wide smile, and stellar coaching.
She is an accomplished weekend bruncher at her favorite local spot: "About every other weekend, I get a takeout order (one blueberry pancake and a side of turkey sausage or bacon", wants her grandkids to look at her and say, "Grandma, SLOW DOWN", and loves how competition breeds a culture that pushes everyone a little harder and makes them stronger.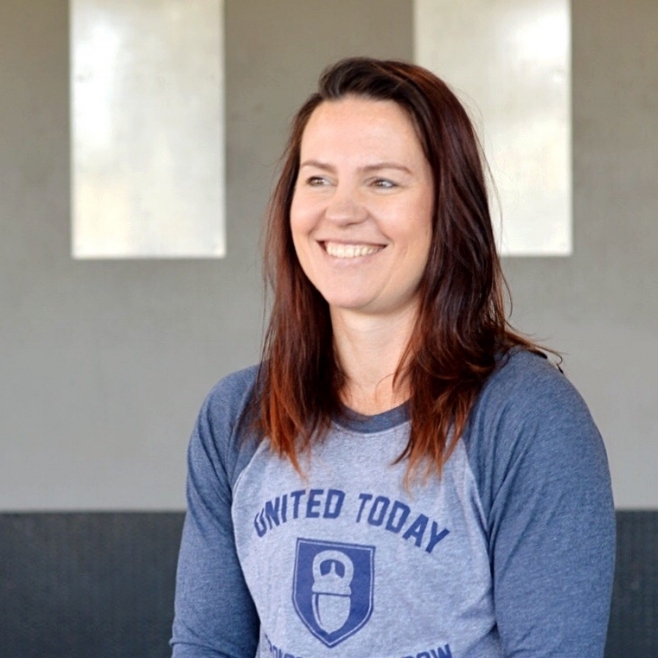 Coach: Wellness & Nutrition
BS Hospitality Management, A.C.E. Personal Trainer, A.C.E. Health Coach, CrossFit Level 1
Michele
michele@UnitedFitnessCrossFit.com
With a background in personal training, Michelle helps our athletes discover that heath and fitness isn't a one-size-fits-all venture, but encourages each individual to discover and fight for an overall healthier lifestyle. She regularly emphasizes the importance of community: "It's hard for anyone to find motivation day-to-day to work out and push yourself. That's where a community steps in." Michelle provides the essential accountability, support, and a passion for nutrition needed to propel our athletes to their full potential and the highest levels of fitness.
As the oldest of six children and oldest of twenty-eight grandchildren, it's no wonder Michelle excels in leading our community well.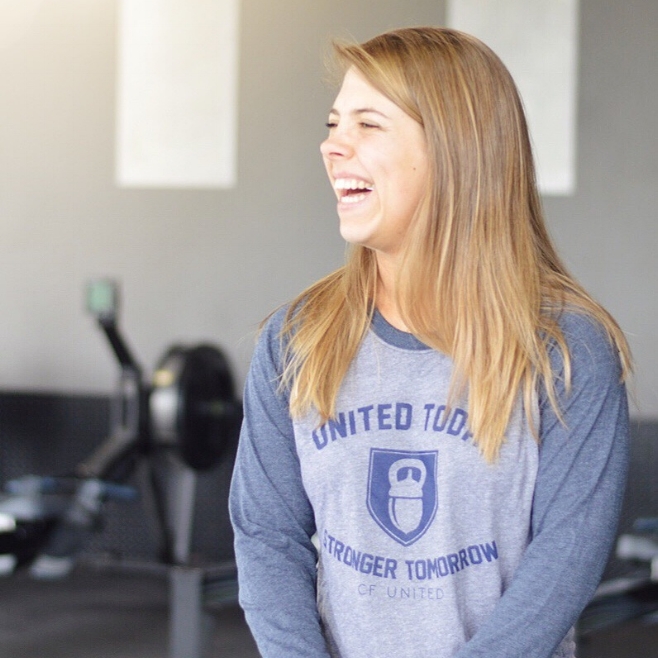 Exercise & Sports Science, UNC
Caitlin
Growing up in an active family that pursued a variety of sports and physical activities, Caitlin's love for fitness started at a young age and has grown into a passion for CrossFit. "Because of my active family, I learned at a young age how to do really uncomfortable things for a long period of time. CrossFit is a perfect combination of all of the things I loved about working out – constantly varied functional fitness." With more energy and positivity than anyone we know, her motto is, "Long obedience in the same direction." She consistently encourages our athletes to press through failure, learn from it, laugh about it, and continue to press on as they pursue their goals.
There aren't many challenges Caitlin isn't willing to take on – backpacking, cross country, flag football, lettering in three varsity sports, and carrying in all of the groceries in one trip. And you'll find her laughing through all of it.
BS - Marketing, Messiah College
Phil
phil@UnitedFitnessCrossFit.com
Phil has always enjoyed physical fitness, from swimming to hiking, to Ultimate Frisbee, and now has a new-found passion for CrossFit. Phil enjoys encouraging others to be their best and push on to meet their goals. A favorite quote for Philip is "Get comfortable being uncomfortable".

The former collegiate swimmer who is still active in the swimming community. He is always down to talk swimming or improve your stroke.
Instructor: Yoga & Mobility
BS - Psychology, UNC; Registered Yoga TeacherYT - 200hr
JENNY
Jenny found a love for yoga while trying out a prenatal yoga DVD and has been a regular on her mat ever since. "The physical and mental benefits of yoga have made a huge difference in my life, and I really believe in an approachable yoga practice where you come to your mat exactly as you are, without needing to change a thing." Jenny's passion for spreading accessible yoga led her to pursue yoga teacher training, studying the Ashtanga, Vinyasa, Hatha and Yin styles of yoga. "I want to break down the myth that yoga is only for 'flexible' people. Yoga has benefits for everyone, from the athlete with perpetually tight hips and hamstrings to the dancer that can drop right into the splits. Yoga really is for everybody and I want my classes to reflect that."
You will find her classes to be a great mixture of challenging and relaxing yoga sequences, humor and a killer playlist (Yoga to the Hamilton soundtrack anyone?)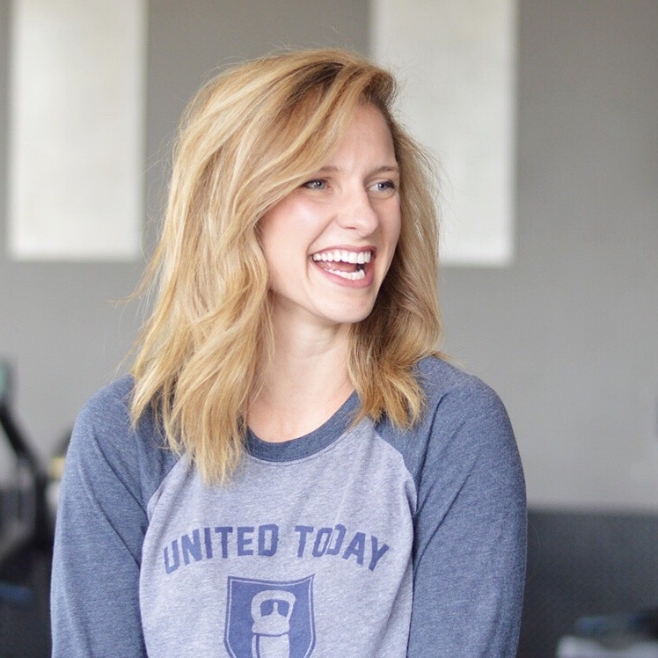 Bachelor of Music Education, Florida State University; CrossFit Level1
Rachel
rachel@UnitedFitnessCrossFit.com
Rachel is a wife, mother, vegetable lover and business owner at United Fitness. With a background in music, experience in cooking, and four wild kids, Rachel's current career is an unexpected joy. "I can't believe I get to help people for a career." She has always had a passion for health and developing others, but her passion for fitness was galvanized a few years ago when she found CrossFit. Frustrated with a half-hearted attempt at finding what would work for her fitness goals, she learned that strength training partnered with metabolic conditioning were essential to development as an athlete and as a fully-functioning human being. She wanted to understand why her instinct told her that health was more than simply losing body fat.
As with everything, a constant learner, Rachel passionately pursues ways to constantly improve personally and professionally. "The more I know, the more I see how much I don't know.
Bachelor of International Economics, Georgetown University; CrossFit Level 1
AndrÉ
andre@UnitedFitnessCrossFit.com
André Mann is a multilingual entrepreneur and international business manager with 18 years of business experience in Latin America and Asia. In 2011, he co-developed Sovereign's Capital, a private equity fund that invests in Kingdom businesses. He graduated from Georgetown University in 1992 with a degree in international economics from the School of Foreign Service. André began his career at Procter & Gamble in Puerto Rico and Mexico and then transferred to Citibank Mexico, where he was the director of core banking over all consumer banking products. In 2002, André moved to Uzbekistan and then Afghanistan, where he started several businesses, including an adventure travel company, a small manufacturing company, a consulting company, and a media production company. From 2015-2017 he was the director of European Operations at Diversified Conveyors, Inc. He is currently the Director of the Center of Work and Mission, an elder at Summit Church, HOPE International Board Secretary, a Member of the Board of JusticeMatters, and co-owner of United Fitness CrossFit.